Original Crossover Pick Series
SharkTooth Traditional Crossover Pick
SharkTooth Super Hybrid Crossover Pick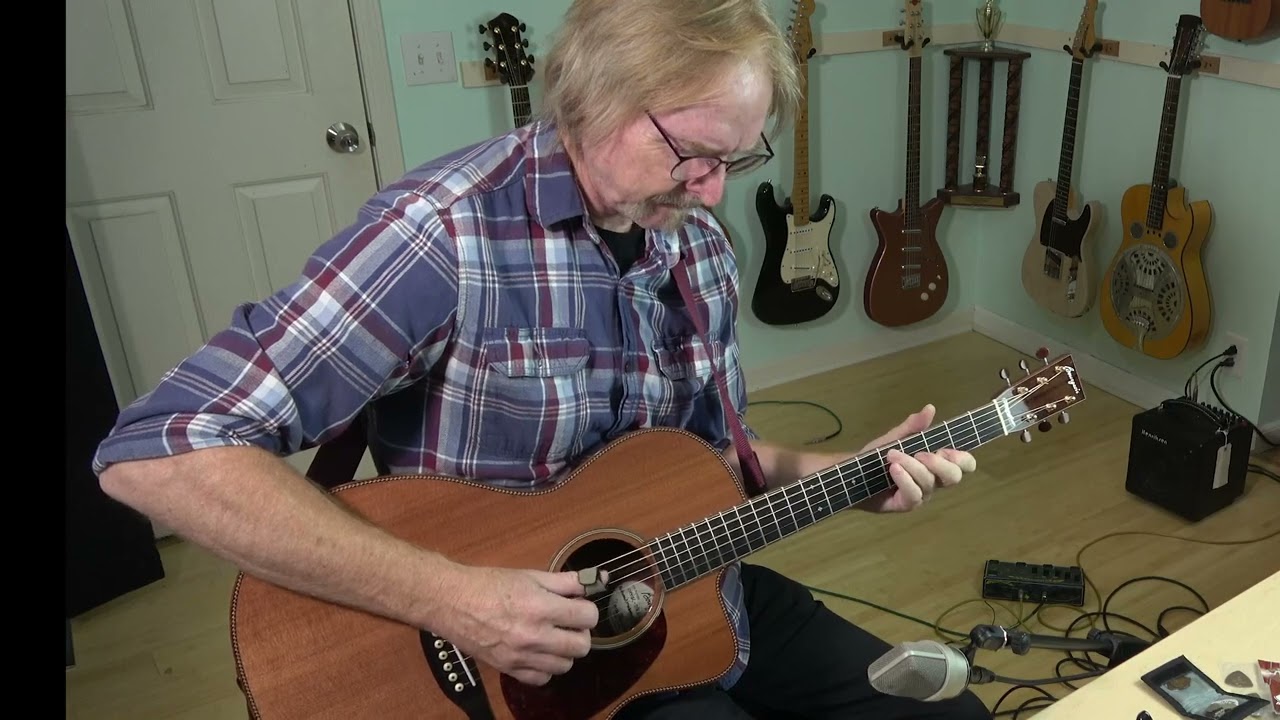 Two time Winfield international champion finger style guitarist Tim Thompson showcasing the SharkTooth Crossover Pick
SharkTooth Crossover Pick Product Overview
(See the Q&A Page for more details)
Welcome and thank you for your interest in the Strum 'N Comfort® Picking System. The SharkTooth (ST) Crossover Pick products from Strum 'N Comfort is a new and exciting music accessory for Guitar, Banjo, Resonator, Bass, Autoharp and Pedal Steel. Now on the market at expanded locations, SharkTooth promises to be standard gear for beginners and established players alike.
SharkTooth Crossover Picks evolved over the last few years by working with music teachers and professional musicians. Each of the three models has a unique set of attributes in terms of fit, feel and adjustability.
The three SharkTooth models are the Traditional, Super Hybrid and Un-Thumb-Pick (Note that they all use a beautiful pearl celluloid flat pick). The ST Traditional and Super Hybrid come in a (two unit) dual pack. The ST Un-Thumb-Pick model is sold in a single package.
SharkTooth picks are designed to support and extend today's established guitar playing methods. The Strum-N-Comfort Picking System promotes skill development by facilitating the blending of important playing techniques. Flat-picking, Strumming, fingerstyle, harmonics, percussion and finger tapping can be easily combined using SharkTooth Crossover Picks.
In conclusion, the Strum-N-Comfort Picking System promotes the concept of a "Universal Picking Technique" for playing stringed instruments.
"Improving Your Musical Skill in Comfort" is our motto!
The Kodiak Crossover Pick Product Overview
The Kodiak Crossover Pick consists of a thin twill nylon strap and incorporates a very durable polymer flat pick. The Kodiak is less bulky - compared to the SharkTooth series - and offers a very tight fit. The Kodiak model is a design combination that uses elements of both the SharkTooth Traditional and early Hybrid design.
The Kodiak basic dual package includes two nylon straps, two different gauge flatpick/strap assemblies (0.8mm & 1.0mm) and instructions.
The Kodiak is fun to play with and it is a favorite of many professional players.